The latest edition of PIARC magazine devoted a special issue to roads and biodiversity. This special issue highlights the results of the H2020 BISON project (you can access its deliverables here) and the African and Israeli experiences of the IENE network. The pages of the special issues are available here and in several languages: French, English and Spanish.
Coexisting with biodiversity, an introduction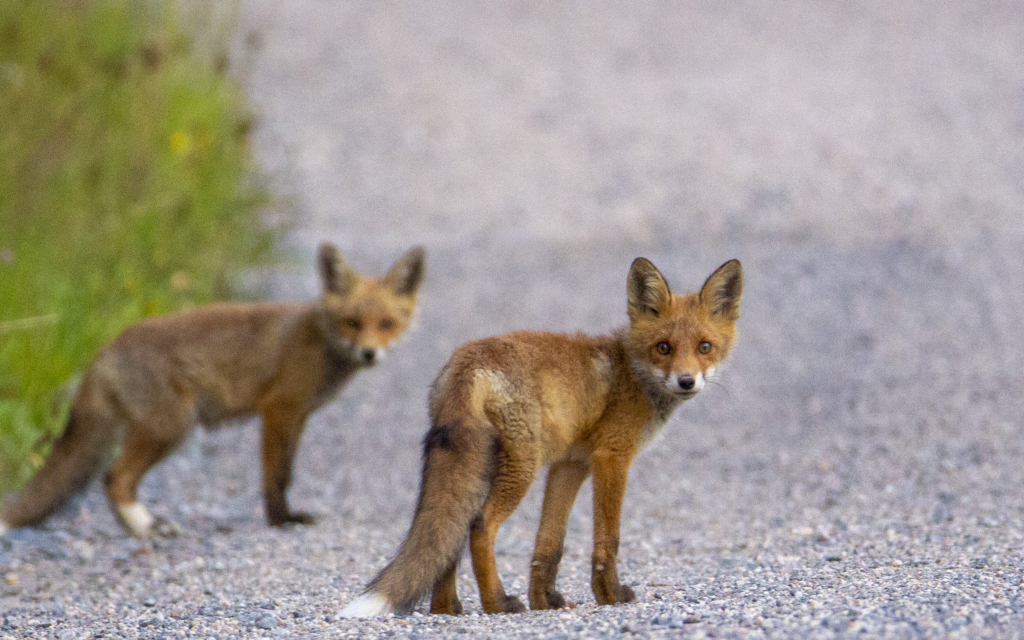 For road developers, "biodiversity" once meant obstacles and opposition to projects. However, road ecology emerged a century ago, aiming to study how biodiversity and road transport interact. It has since expanded into transport ecology, with its own research groups worldwide. Roads are a focal point due to vehicle diversity, territory crossing, and interactions. In this special issue, we present recent achievements in transport ecology, featuring articles by European, African, and American authors, some of whom are associated with international organizations and the BISON project (2021-2023), addressing biodiversity in transport infrastructure development.
Authors:
Denis François, Gustave Eiffel University, Julie de Bouville, Foundation for Biodiversity Research, France
Sustainable Infrastructure – A Matter of Mobility
Mobility is essential for economic growth and life, linking people, goods, and wildlife to resources and trade. However, it often conflicts with ecological needs, resulting in habitat disruption and biodiversity loss. European policies strive to strike a balance but face challenges.
To combat habitat fragmentation, careful infrastructure planning, upgrading roads, restoring habitats, and creating ecological networks are essential. Incentives, such as global biodiversity agreements and economic measures, support these endeavors. Roads and infrastructure can also serve as vital wildlife and pollinator habitats, enhancing ecological connectivity.
Efforts to reconnect habitats and safeguard biodiversity are vital for a sustainable future. Collaboration among road planners, engineers, and various stakeholders is crucial in creating environmentally responsible transport networks.
Authors: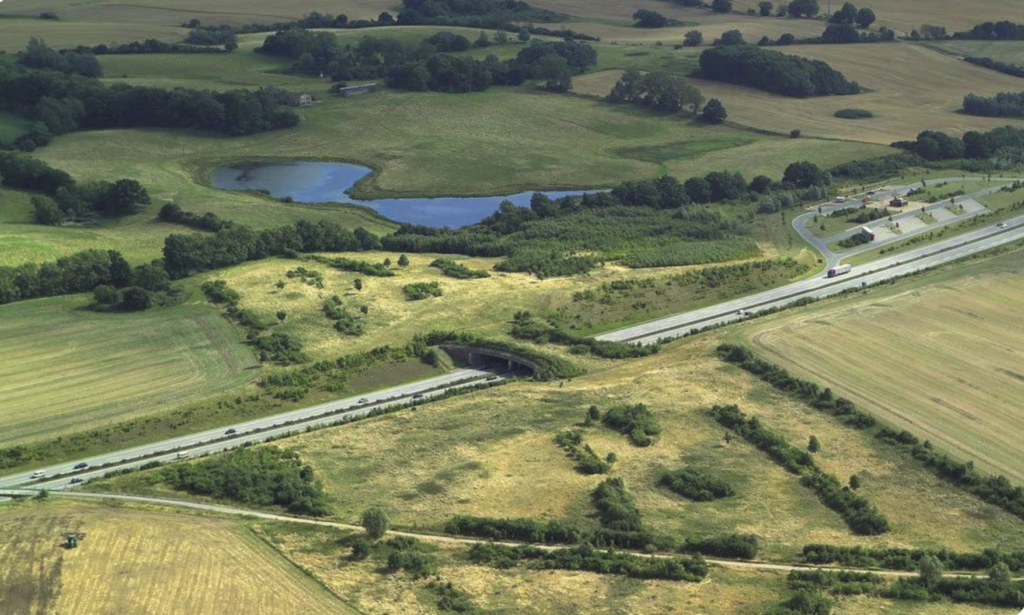 Andreas Seiler, Senior Researcher, Swedish University of Agricultural Sciences, Chairman for the IENE Scientific and Expert Committee, Sweden, Johan Rydlöv, Vice chairman of the IENE Governance Board, Swedish Transport Administration, Sweden, Elke Hahn, Federal Ministry for Transport, Innovation and Technology, Chairwoman of the IENE Governance Board, Austria, Lazaros Georgiadis, Environmental consultant, CERTH, member of IENE Governance Board, Greece
Employ Innovation, Technology and Cooperation to Reduce Collisions between Vehicles and Wildlife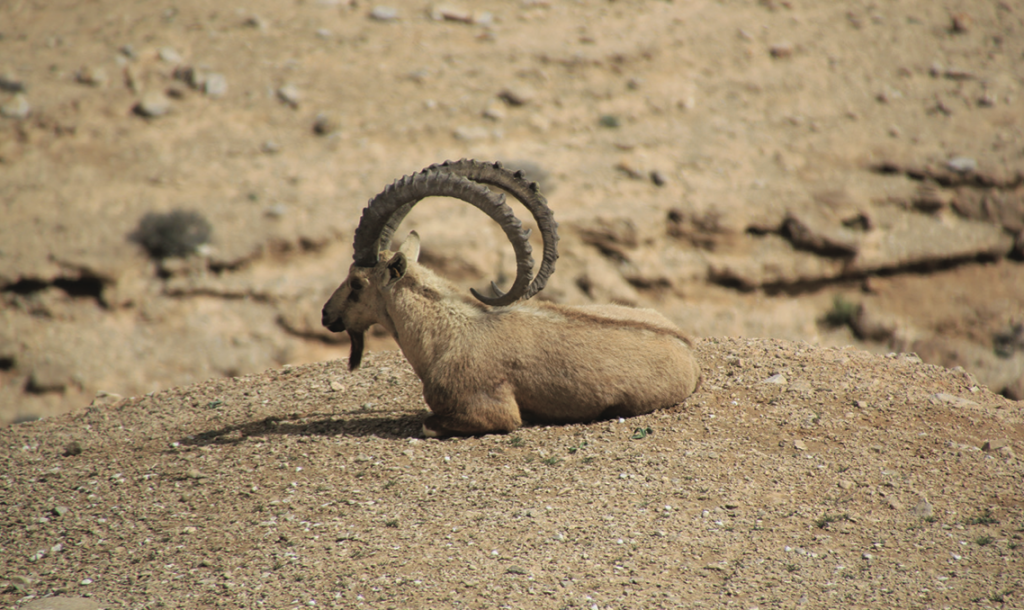 Numerous wildlife behavior studies have been conducted in Israel, revealing diverse behaviors based on geography. One challenge exists along Route 90 near the Dead Sea, where Israeli gazelles venture onto roads in search of food, increasing the risk of accidents. In the first half of 2022, 19 ibexes were run over on Route 90, a dramatic increase compared to previous years, partly due to desert conditions forcing them down from the cliffs.
In recent decades, urban development and changes in agricultural land use have increased encounters between wildlife and vehicles. The expansion of the wild boar population into urban areas is also due to increased food availability. Researchers found that human encounters and habitat urbanization reduced wild boar apprehension. To address these challenges, Netivei Israel focuses on road safety and cooperation with relevant parties, including technology companies. Advanced systems are being tested at wildlife crossing points, and research proposals are sought to promote applied research in academia, aiming to create advanced solutions to protect wildlife in encounters with roads and railways. Cooperation is crucial to tackling this complex issue, and collective efforts can positively impact ecosystems and preserve biodiversity on Earth.
Author:
Adi Gamliel, VP, Innovation, Strategy and ESG and Netivei Israel – National Transport Infrastructure Company, Israel
Sustainable Mobility: Mitigating the Impact of Road Transport Infrastructure on Wildlife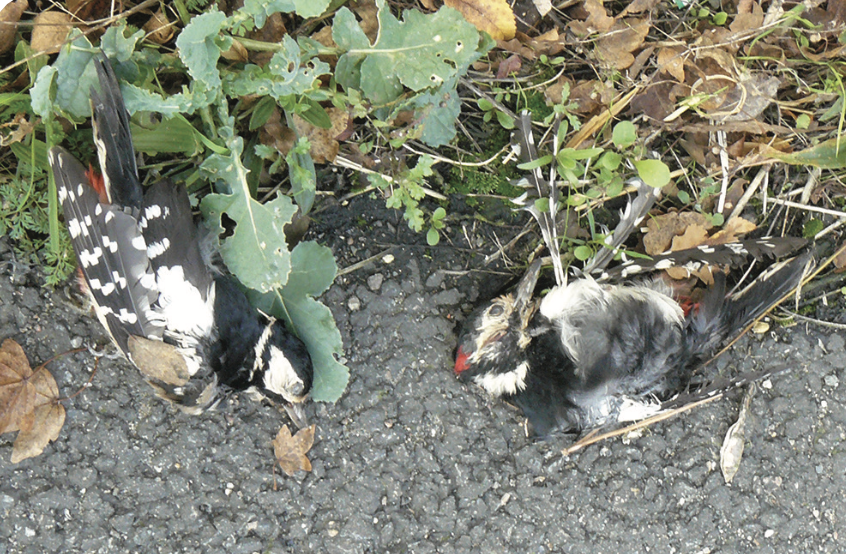 Roads and traffic cause many casualties among the wildlife population, in a range from hundreds of thousands to several hundred million animals annually depending on the country. This is an increasing global concern because global road expansion continues at an unprecedented rate and will mostly be concentrated in low-income countries where many of the planet's most biologically rich and environmentally important ecosystems are situated.
Authors:
Vanessa Peters, Program Policy Analyst, Transportation and Infrastructure Programs, Transport Canada, Canada, Éric Guinard, Project Manager Ecologist (PhD), Cerema, member of IENE Scientific and Expert Committee France, Éric Dimnet, Mobility officer at the General Commission for Sustainable Development, Ministry of Ecological Transition, France

Biodiversity and Infrastructure: An Online Handbook for Promoting Cooperation and Action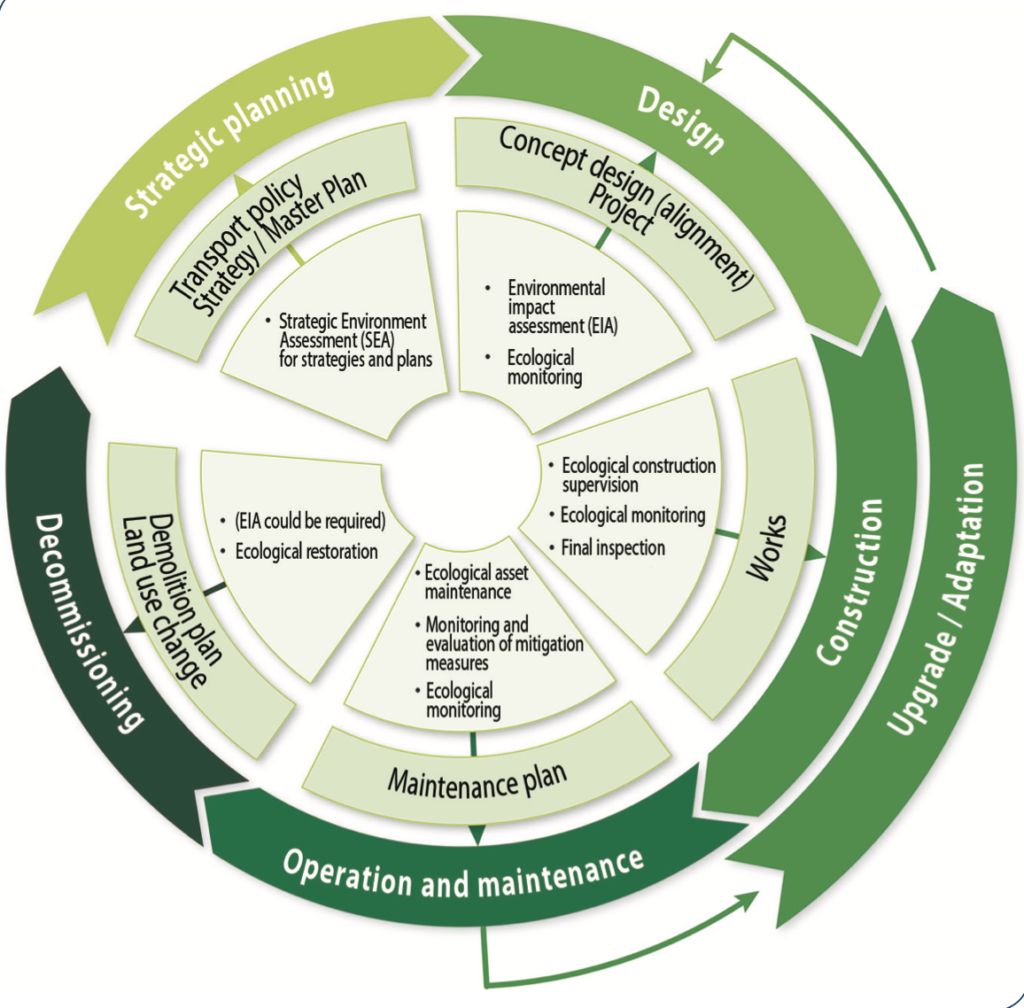 The joint goals to enhance infrastructure resilience to extreme weather events, increase traffic safety and nature restoration can be achieved by mainstreaming biodiversity in the planning, design and operation of transport infrastructure. Deployment of concrete actions which have been proven effective must be accelerated while new innovative solutions and technologies are being developed. The online handbook 'Biodiversity and Infrastructure. A handbook for action' promoted by IENE, the Horizon 2020 BISON project, and other organisations, includes guidelines and standards to be applied by practitioners, which can also be upgraded to include newly available knowledge when required. It is a key tool in expanding the application of effective solutions. The website also includes the 'Transport ecology guidelines portal' allowing easy access to guidelines published in different countries and a 'Glossary', paramount for the use of a common vocabulary and for the mutual understanding between experts in ecology and infrastructure fields. This is the basis for cooperation of both disciplines to identify present and emerging conflicts, understand the driving forces and causes, and accelerate the application of appropriate solutions to reduce biodiversity loss and increase infrastructure resilience and safety.
Authors:
Carme Rosell, Senior researcher, director at MINUARTIA, member of IENE governance board Spain, Andreas Seiler, Senior Researcher, Swedish University of Agricultural Sciences, Chairman of the IENE Scientific and Expert Committee, Sweden and Luis M. Fernández, project manager at MINUARTIA, Spain
Capacity Building Tools for Raising Awareness about Biodiversity Mainstreaming: BISON E-learning Platform by SPECTRA

The BISON project, funded by the European Union's Horizon 2020 research and innovation programme, is focused on tackling the research and innovation challenges related to biodiversity mainstreaming in the complete life cycle of transportation infrastructure. The project's main objective is to support the European Member States, stakeholders, and associated countries by offering them recommendations and tools to integrate biodiversity considerations.
Authors:
Maroš Finka, Professor, SPECTRA Centre of Excellence, Sıla Ceren Varış Husar, Postdoctoral Researcher, Nataliia Yehorchenkova, Researcher and, Oleksii Yehorchenkov, Researcher, Slovakia. All four from the Slovak University of Technology in Bratislava.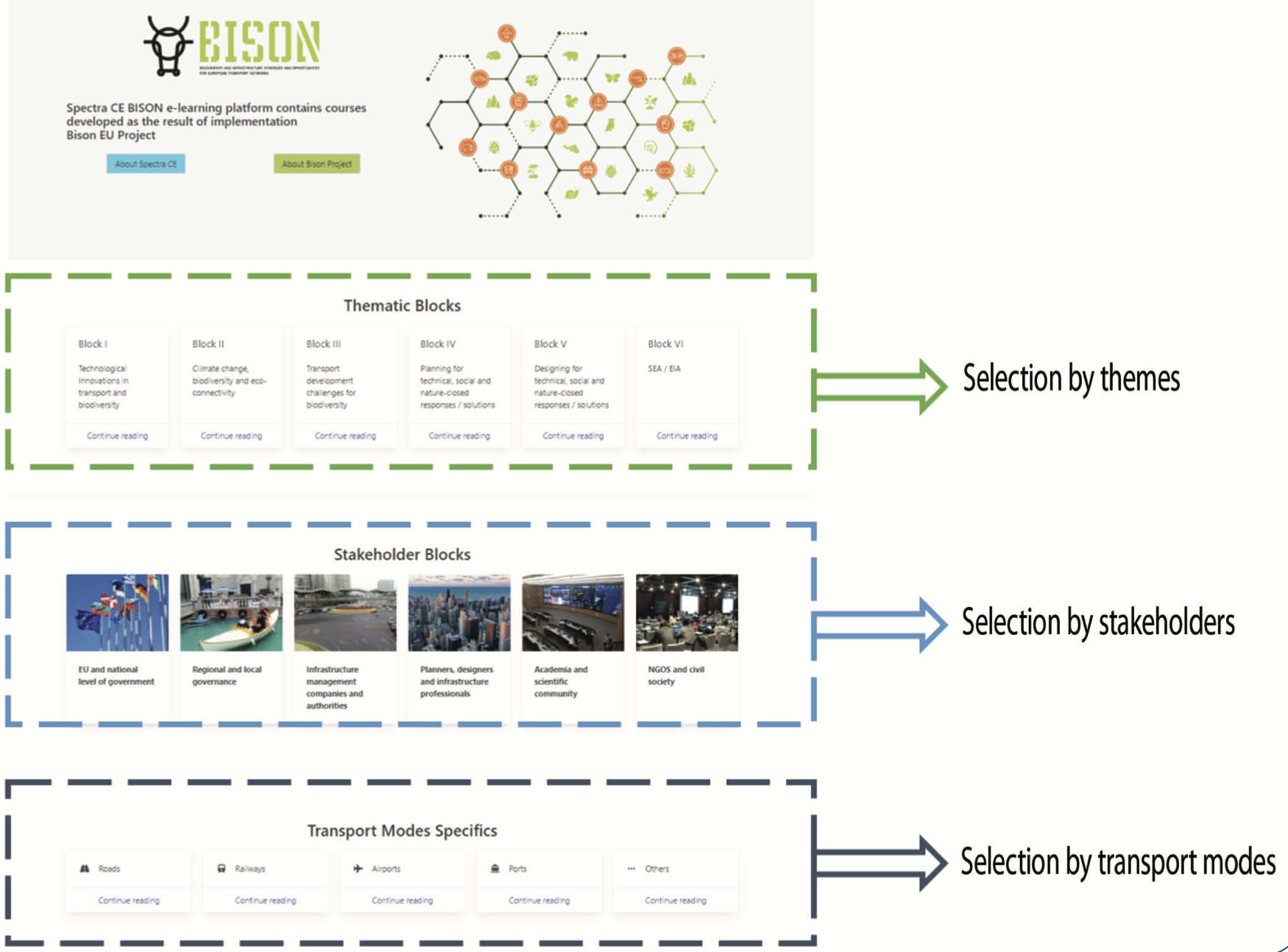 From the 5th Generation Road to Roads of the Anthropocene – What are the Synergies between Digitalisation of Transport Infrastructures and Protection of Landscapes and Biodiversity?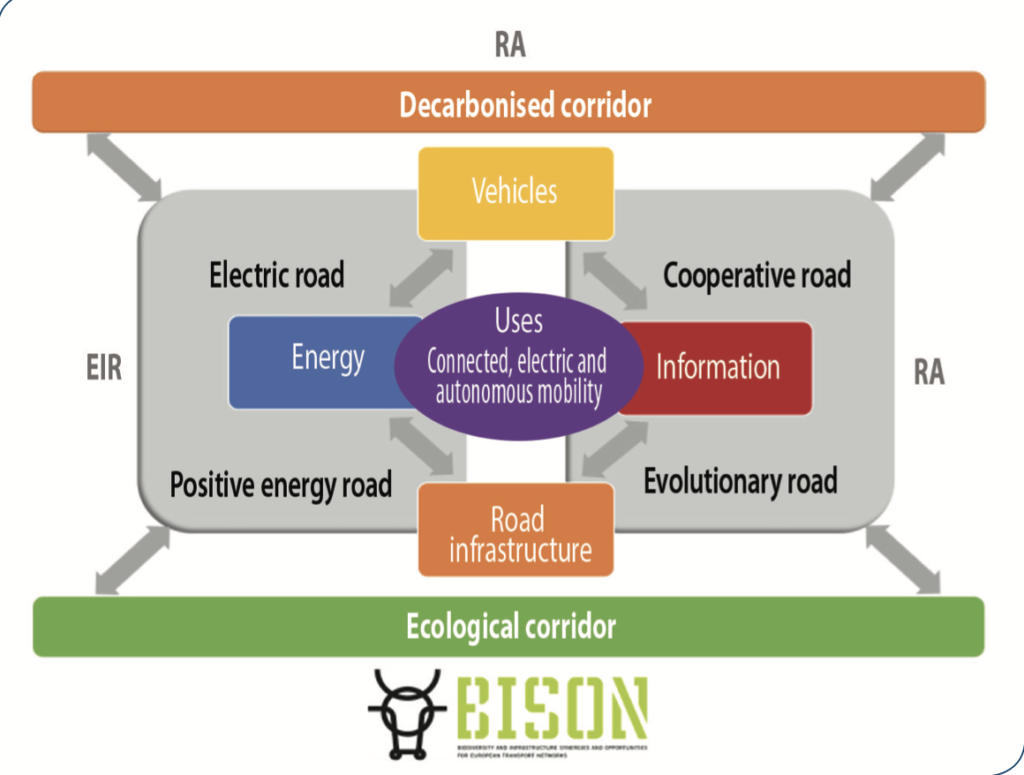 The "5th Generation Road" or R5GMD project, the French version of the "Forever Open Road" project, aims to design road infrastructures that are adapted to the challenges of the 21st century. The project is divided into three phases. The first phase (2010-2015) involved identifying key technologies and preparing the associated research projects, culminating in the publication
of a roadmap validated by the Ministry responsible for the environment and transport at COP 21. The second phase (2015-2020) was dedicated to creating demonstrators of these key technologies. The third phase, which began in 2020, aims for a widespread roll-out of the best solutions stemming from these demonstrators. This widespread roll-out requires either public funding which, even if substantial, will only allow solutions to be rolled out incrementally in the territories, or the design and implementation of more innovative business models that will be likely to drastically accelerate this roll-out, considering an R5G backed by new ecological and climatic functions.
Authors:
Nicolas Hautière, Director of the COSYS Department, Gustave Eiffel University, Sylvain Moulherat, OïkoLab, TerrOïko, Dorothée Labarraque, Innovation Director, SL Environnement, EGIS, France
The Final Frontier – Meeting the Challenges of Linear Infrastructure in Africa
The environmental and infrastructure sectors in Africa are at the early stages of adopting a meaningful collaborative agenda for developing ecologically sustainable linear infrastructure. There are efforts, lessons and knowledge emerging from various parts of the continent which highlight a pressing need to move this agenda forward. African countries have a very limited timeline to ensure ecological sustainability in the face of rapid and expansive linear development across the continent. It is imperative that this sustainability planning be implemented prior to the initiation of any prospective development planning.
Author:
Wendy Collinson, the Endangered Wildlife Trust, Midrand, Gauteng Province, SARChI, Chair on Biodiversity Value and Change, School of Mathematical and Natural Sciences, University of Venda, Thohoyandou, Limpopo Province, South Africa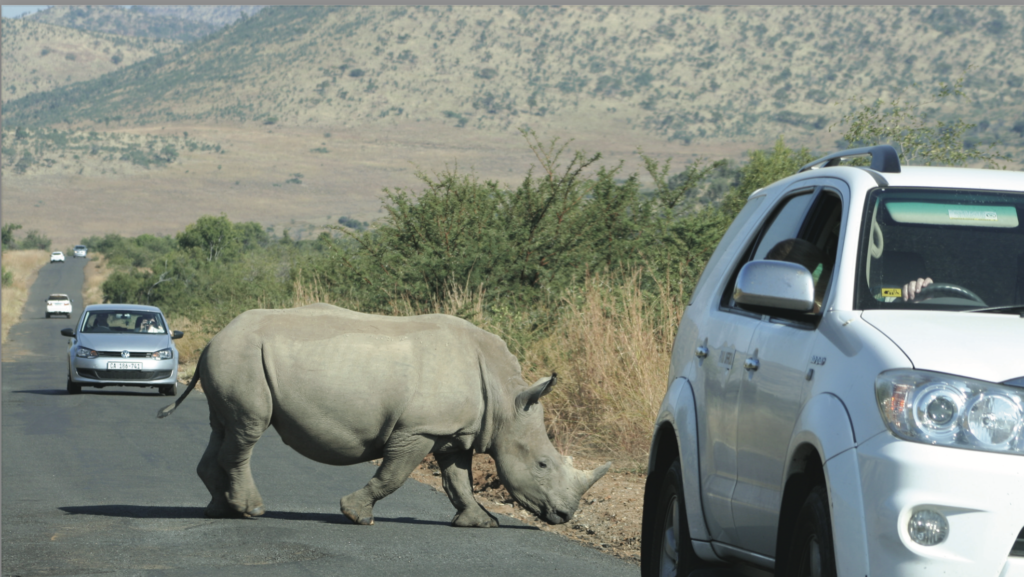 A Strategic Research Agenda for Biodiversity-Friendly Transport Infrastructure in Europe
The SRDA prioritizes balancing environmental preservation and economic development in transportation. It's flexible for different implementation levels, from EU to local programs. Stakeholder input, including experts and voluntary institutions, guides research priorities in 14 key areas, like species disturbances, wildlife management, and biodiversity conservation in transportation. The text covers research phases in transportation infrastructure's life cycle, focusing on exploitation, design, and adaptation. It also explores reducing environmental impacts, enhancing ecological permeability, and managing transportation's impact on biodiversity. Various tools like data collection and real-world experiments support transport ecology research. The text emphasizes the need for an adaptable approach to tackle the challenges in transport ecology research.
Authors:

Denis François, Research supervisor, Université Gustave Eiffel, member of IENE Scientific and Expert Committee, France, Ivo Dostál, Researcher, Transport Research Centre (CDV), member of IENE Scientific and Expert Committee, Czech Republic, Yannick Autret, Transport, Energy & Environment Expert, Ministry for Ecological Transition and Territorial Cohesion, Member of IENE Governance Board, France