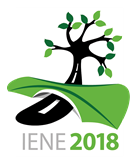 The Organization Committee chose for "Crossing borders…" as a central theme of IENE 2018, because this is what habitat defragmentation is all about, both literally and figuratively. It is impossible to establish and maintain sustainable populations of flora and fauna without crossing any borders, particularly where these populations are divided by transport infrastructure.

Cross-sectoral cooperation and collaboration between experts of different disciplines is also essential in this repspect and an example of crossing borders. This often means leaving behind one's own familiar way of working and thinking. The IENE 2018 International Conference aims to take a step in this direction by giving more attention to ecological engineering and providing architects, engineers, contractors, and designers the opportunity to present their vision and expertise.

It all comes down to connectivity. The IENE international conferences are a perfect platform to get connected, to exchange the current state of research knowledge and practical experience between the sectors of environment and transport, between scientists and practitioners to gain new insights and learn new ways of working.
In a world that is changing faster than ever, using a platform like the IENE international conferences is only natural. By connecting research and practical experiences we are better able to prevent, mitigate and compensate the impacts of the fast growing networks of transport infrastructure, and in such a way that it can contribute to halt the decline of biodiversity worldwide. Economics and ecology should not paralyze each other, but find their synergy.